ONLINE HOMEWORK
The most advanced grading and feedback
Because teaching a large class shouldn't mean that students fall through the cracks. Stemble is for those who want more from an e-learning platform in chemistry.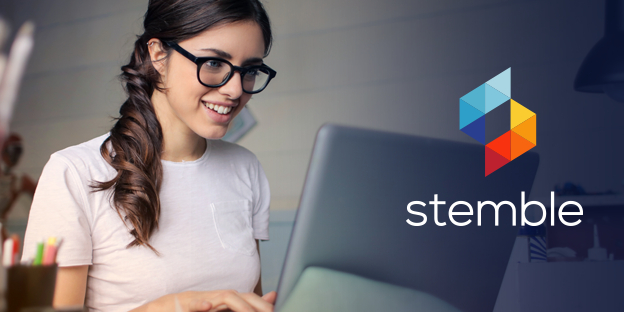 POWERFUL FEATURES
Works with your team and your content
Built for Chemistry
From MO diagrams and structure drawing to ICE tables and chemical notation, we build the unique tools you need for teaching chemistry.
Simple to use
Simple to use, yet powerful and works on any device with no need to download any special software.
Detailed Feedback
Our intelligent grading technology identifies where students are going wrong and tailors feedback to help them.
Student Analytics
Track student behaviour and performance so you know who's not engaged and what exactly they need help with.
Intelligent Grading
Our grading algorithms can identify when students get the wrong answer with the right process, offering partial credit where appropriate.
Limitless Options
As your technology partner, we work with you to create new content and questions all semester long.
Randomizable
Give each student their own data and question parameters to preserve academic integrity and enhance engagement.
LMS Integration
Sync your roster and grade info from your institution's LMS.
HOW IT WORKS
Your 3-step plan to a better online chemistry experience
Step 1: Book a demo

Step 2: We'll build your course

Step 3: Launch when ready!
Let's chat
Click the button below and book a demo with us at a time that works for you. We'll set up a video chat and walk you through the Stemble platform and how we can help you bring your chemistry course online. Be sure to share the meeting details with all of the stakeholders at your institution such as your department chair, course coordinators, instructors, and other staff.
We'll answer all of your questions and introduce you to the team.
Alternatively, since space is limited for our fall 2021 cohort, you can skip ahead to step 2 and send us your course materials today by clicking the "sign up now" button. We'll then get started right away building your course.
We'll get to work
We'll create your course, including any and all sub-sections and lab groups required. We can also onboard all of the faculty and staff who need access. Stemble supports the inclusion of any number of course coordinators, instructors, TAs, split among any number of sections.
We can also build online versions of your tests and assignments, including our randomization and intelligent grading and feedback technology. Additionally, you can feel free to browse our growing library of content for chemistry to create any number of assignments for your various cohorts of students.
Deploy your course whenever you're ready
Once you deploy your course, we'll invite your students to the platform and get them started. You'll be able to deploy your assignments whenever you wish and watch your students interact with the content in real-time.
How easy is Stemble to use?
Stemble was developed from research with focus groups of faculty, staff, and students. It has been designed to be easy to use from day one. Since it is a web-based platform, it works on all modern devices and all you need is an internet connection. There is no special software to download or install.
Building assignments is simple. Just search and select from our database, or send us example questions you'd like to incorporate into your latest assignment.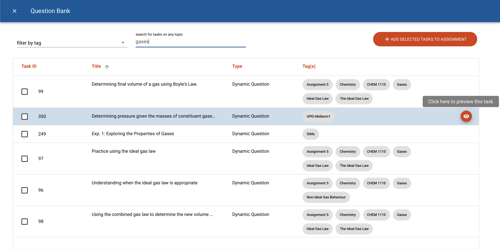 Then all you need to do is choose when to deploy your assignments and to which group of students. Your students will see their new assignments on their dashboard when they log in.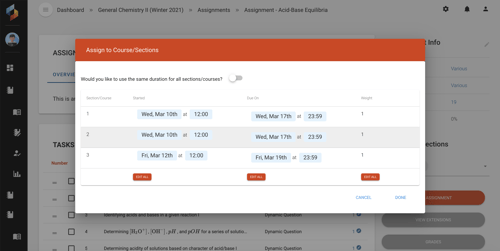 You'll then be able to track who's using the platform in realtime and get reports on engagement and common misconceptions among your cohorts of students.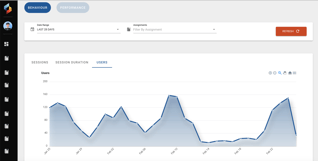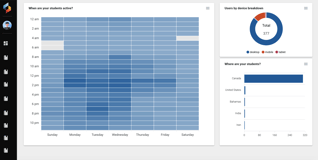 How can I add more questions to your database?
When you begin using Stemble, you'll be assigned a dedicated Stemble team member to help you with running your course. Simply get in touch with your Stemble contact to request any new questions or content for an assignment you're planning.
Can I use Stemble for tests?
Yes. Stemble has many assignment modes that can be tuned to your preferences. You can adjust:
The level of feedback students receive
The number of responses students are allowed to submit
The amount of time allotted to the assignment
Any grade penalties for incorrect responses
etc.
By restricting feedback and setting time restrictions, Stemble can effectively be used for remote testing and quizzes.
What level of customer service can I expect?
As your technology partner, the Stemble team aims to be part of your team. We'll work with you to create meaningful online experiences for your students and be there every step of the way to support everyone in their learning.
Faculty and staff at your institution will have access to a dedicated stemble team member to ensure success and assist with any troubleshooting necessary.
Your students will have constant access to our support personnel for any issues they may experience.
Have more questions? Let us know.